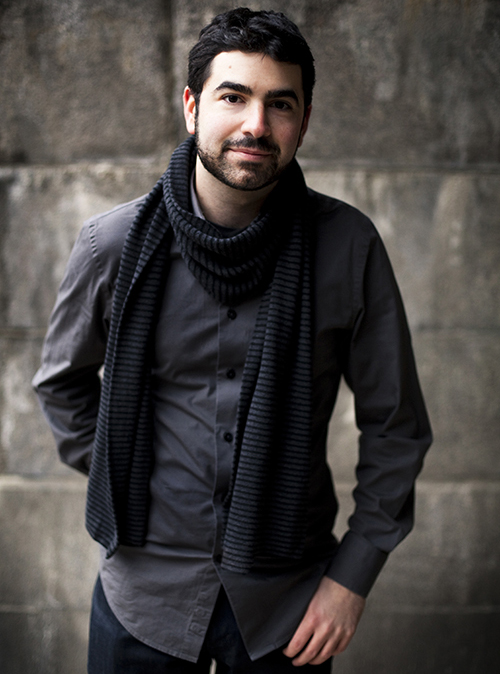 Photo by Jamie Beck. Michael Brown, who is recording a CD of George Perle's music, performed a piece by the composer during his Gilmore Rising Stars recital.
KALAMAZOO — An almost full Wellspring Theater Sunday afternoon greeted pianist Michael Brown, the latest of the Gilmore Rising Stars. The 24-year-old Long Island native arrived laden with extraordinary technique and a program to display his talent.
Not that the concert's selection by composer George Perle, "Musical Offerings for Left Hand Alone," offered singable melodies. But, its three movements did require exceptional technique to hold together Perle's atonal and serial-designed music.
Spiky and punctuated by seemingly random note choices, "Offerings" allowed Brown's left hand to traverse the entire piano keyboard with uncanny precision. Thanks to Brown's exact playing of insistent repetitive notes and phrases, "Offerings" maintained an underlying coherence.
Best utilizing Brown's brilliant, assured playing was the opening selection, Beethoven's challenging Sonata No. 22 in F Major Op. 54. Composed with only two movements, Beethoven's piece nonetheless required enormous ability to span the keyboard using fast octave runs.
In the first movement, Brown's hands were marvelously in dynamic balance, precluding loss of the melodic line, even for an instant. Beethoven's Allegretto movement displayed Brown's fingers scampering across the keys at a fast clip.
Third on the program were the last six sections, Numbers 7 through 12, of Debussy's Book II of Etudes. As to be expected from a set of piano studies, Debussy's movements were designed to perfect different elements in a pianist's playing, such as chromatic intervals, ornaments and repeated notes. Brown showed perfection with each study-even if absorbing melodies and harmonies had little place in the pieces.
Brown chose Schubert's Sonata No. 17 in D Major, D.850, to close. The opening Allegro vivace might have benefited from a more slightly relaxed tempo, though Brown managed impressive clean chromatic scales throughout. Interestingly, Robert Schumann's "Papillons" shares sonorous affinities with this movement.
Brown masterfully delineated the subtle, intricate interplay in the second movement, Con moto. The cheeriness of Schubert's music was kept in view, but Brown was not able to compensate for compositional deficiencies in the final two movements. Scherzo, the third section, could not escape repetitiousness, and the closing Rondo, charming with playful jauntiness, became stalled in its theme and variations patterning.
Brown offered a gorgeous encore by Federico Mompou, to end on a plus note. Expect to hear more of Michael Brown in years ahead.